chia2160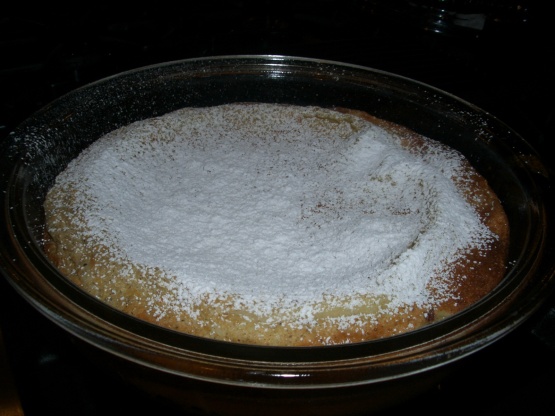 Posted for Zaar World Tour - France. Recipe source: Bon Appetit (October 1985)

this was delicious, although it is hard to describe. is it a light dessert or a breakfast/brunch entree? it's not a souffle, not a custard, not a pudding, it's consistancy is most like a flan--. i used a mix of golden raisins and cherries, they sank to the bottom of the dish. next time i make this i'll add flour to them to keep them evenly distributed. great dish.
In a small cup or bowl marinate raisins in the brandy for at least 30 minutes.
In a saucepan over medium high heat, bring milk and vanilla beans to a boil. Remove from heat and let steep for at least 5 minutes.
Preheat oven to 475-degrees F.
Butter a 6-cup baking dish.
In a large bowl beat eggs and sugar together until thick.
Whisk in flour 1 tablespoon at a time.
Remove vanilla bean from milk and discard vanilla bean.
Whisk milk into batter.
Stir in salt.
Stir in undrained raisins.
Pour batter into prepared dish.
Bake for 20-30 minutes or until puffy and golden brown.
Sprinkle with powdered sugar.
Serve with strawberry preserves.