Fizzy Pineapple Cooler With a Hint of White Chocolate
Shuzbud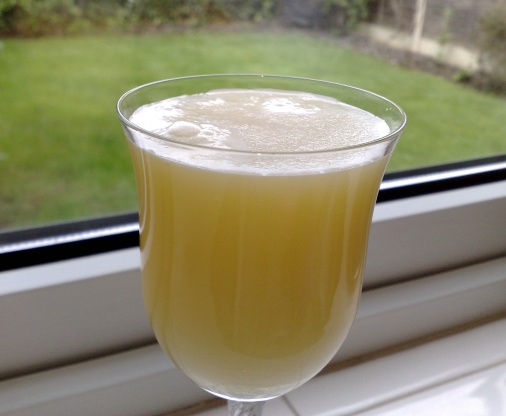 This is really refreshing on a hot day. I'm sure you could add rum to make this an interesting cocktail although I've only tried the non-alcoholic version! This drink is best when made with newly-opened sparkling water, to get the most fizz out of it! Cook time is chill time.

Very refreshing! I was leery of the chocolate and it took a while to melt but this is an very interesting tasting drink. Made for Recipezaar Tag.
Stir white chocolate and 4 tablespoons of the pineapple juice in a pan over a low heat. Stir until the chocolate has completely melted and blended in with the juice- it will eventually!
Add the remaining juice and chill.
Divide the pineapple mixture between four glasses.
Top up with the sparkling water divided evenly between the glasses (adjust the amount to taste but I have found the proportions listed here to be the best).
Garnish with pineapple slices if desired and serve immediately for optimum fizz!