Five Star White Chocolate Fruit Tart
Dine Dish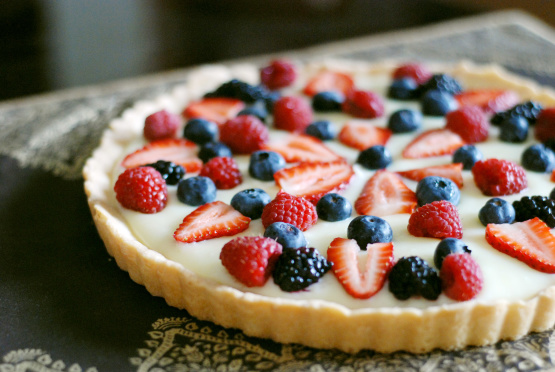 Don't make me a liar...try this oversized tart and rave like everyone else who's tried this fabulous dessert.

This recipe is great. I was worried about the crust making because I had never made tarts before, but everything turned out just fine. Just some tips for those who have never made tarts before - 1) I used a removable bottom tart pan. 2) I used regular Pam cooking spray to grease all sides of the pan. 3) Even though you press the crust up the sides of the pan, they're going to slide down while baking (they did this whether or not I greased the pan). It's okay - there will still be a slight dip in the middle of the tart and the filling is thick enough that you don't need the sides to be very high. I kind of worried about this when I saw that my sides had pretty much leveled out but everything turned out just great so don't sweat it. 4) Don't remove the tart crust from the pan until after you've put the filling in and chilled it (step 10). Thanks for a great recipe!
Heat oven to 300°F.
Beat butter and sugar until light and fluffy.
Blend in flour.
Press the mixture onto the bottom and up the side of a 12 inch round pizza pan.
Bake for 20-25 minutes or until just lightly brown.
Cool completely.
Carefully melt the vanilla or white chocolate chips and the cream either carefully on the stove on very low, stirring constantly, or in the microwave.
Beat in the cream cheese.
When crust is cool, pour on the melted chocolate/cheese mixture, spreading evenly.
Cover with plastic wrap and chill until ready to serve--at least 3 hours.
Slice the fruit of your choice and place on the tart in an attractive manner.
This is best eaten the same day it's made.
But there won't be any leftovers anyway.