Five-Spice Tilapia With Citrus Ponzu Sauce
HisPixie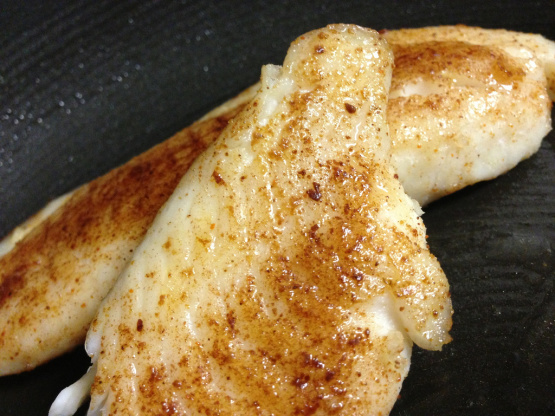 I love tilapia! This is a Cooking Light recipe. I have not yet made this, but it looks to be a relatively quick and easy meal.

This was delicious! I had all the ingredients except the green onions but I'm not a big fan of them anyway. I used coconut oil instead of canola oil as I prefer it; it doesn't change the taste much, especially in small quantities like this. I forgot to take a photo of my dinner plate so I just have a photo of the unadorned fish. I'll post a better photo next time since there definitely WILL be a next time. Hubby even suggested saving the leftover sauce and just making it again this week.
Combine green onions, juices, soy sauce, brown sugar, vinegar, and ginger in a small bowl.
Combine five-spice powder, salt, and pepper.
Sprinkle both sides of fish evenly with spice mixture.
Heat oil in a large nonstick skillet over medium-high heat.
Add fish to pan; cook 2 minutes on each side or until fish flakes easily when tested with a fork or until desired degree of doneness.
Remove from skillet, and serve with sauce.