ImPat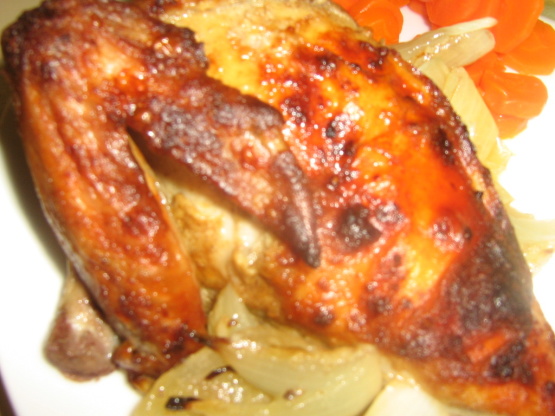 From Bon Appetit...time does not include marinating time...1 hour to overnight...you pick.

Top Review by ImPat
I quartered 2 small chickens ending up with 1700 grams of meat on the bone and 8 pieces. For the marinade I up it 50% but only used 1 tablespoon of salt (and glad I did - we are not big salt fans). I only had 2 small onions and quartered those and followed through putting the left over marinade in the bowl over the chicken pieces. Now comes my mistake thought the oven was at 175C (fan forced) but after 30 minutes discovered it was at 150C so cranked up to 175C and baked a further 30 minutes, the skin was not as crispy as I would have liked but I think that was my fault but would suggest to pull the skin back on the pieces and rub some of marinade under the skin so it permeates into the meat and pull the skin back - mine marinated for about 2 hours. I wanted to serve with stir fry rice but tonight was the DH's call on the sides and he chose mashed potato and steam vegetables (carrots, broccoli, cauliflower and chokoes) - overall a tasty dish. thank you Little Suzy Homemaker and made for New Kid on the Block.
Combine garlic, salt, olive oil, and Chinese five-spice powder in a large bowl. Add chicken pieces; turn to coat. Cover and chill at least 1 hour to overnight.
Preheat oven to 425 degrees. Arrange onion wedges in a 13x9x2 inch roasting pan. Arrange chicken, skin side up, atop the onions. Roast until chicken is cooked through, basting occasionally with pan juices, about 50 minutes. Remove chicken from oven and let rest 10 minutes. Arrange chicken and onions on platter and serve.