Five Spice Lamb Shank With Tamarind and Ginger
ImPat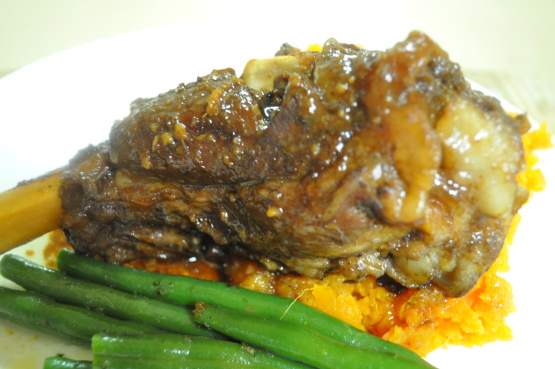 This is a very healthy, yet delicious recipe. It is an alternative way to do lamb shanks other than in red wine and beef stock with herbs and vegetables. It is also low in fat and carbohydrates. You can up the carbs by serving this with steamed basmati rice if desired, I just served it with bok choy and gai larn (also known as Chinese broccoli).

Top Review by ImPat
The smell alone as it was cooking was so inviting. I used 4 lamb shanks defrosted from the freezer and they each weighed between 350g to 370g so used the upper end of the cooking time and when serving they did look overcooked but the meat was falling of the bone and succulent to taste, you could cut it with a fork it was so tender and oh so full of flavour, I cut the sugar back to 1 tablespoon as I don't like sweet but that was enough for me/us and really bought out the flavour of the star anise and the tamarind (word of warning if your pan is a little too hot when you fry of the spices they really assault the nostrils whoo hoo). I served with mashed sweet potatoe and green beans (using recipe #367719 by Sydney Mike). Thank you The flying Chef for a fantastic recipe, made for Aussie/Kiwi Swap #51 April 2011.
In a small heated fry pan, dry-fry chili, cinnamon, five spice and star anise, stirring, until fragrant.
Combine spices with rice wine, sauce, tamarind, sugar, ginger, garlic and water in a medium jug.
Place lamb in a baking dish and pour spice mixture over, cover dish with foil. You will bake lamb the entire time covered, just opening to turn lamb occasionally.
Bake in oven 1 1/4 - 1 1/2 hours at 100°C, then turn up oven to 150°C and bake for a further 1 - 1 1/4hour, finally turn oven up to 180°C and bake for 30 minutes to 1 hour until lamb is falling off the bone.
Boil or steam bok choy and gai larn separately until tender and drain.
When lamb is done remove and wrap in foil to keep warm. Strain liquid into a saucepan and bring to boil over a medium heat. Add a little water to cornflour and add to sauce, stir until mixture thickens.
I stated in ingredients 1 tablespoon, extra, of brown sugar, I have made this several times and sometimes I find it is fine as is and other times I find I need to add the extra sugar, so just taste test to see if you need this.
This is a great recipe because once you have made the spice mixture to pour over lamb, that is just about it, you can just leave it to cook, with the only thing to remember, to turn the oven up at required times. The lamb comes out perfect every time so juicy and tender.
To serve: Place a mound of steamed vegetables on plate, place lamb shank on top and drizzle sauce over.
As I stated earlier to up carbs just serve with some steamed basmati rice.