Five (Or More!) Ingredient Garlic Quinoa
DuChick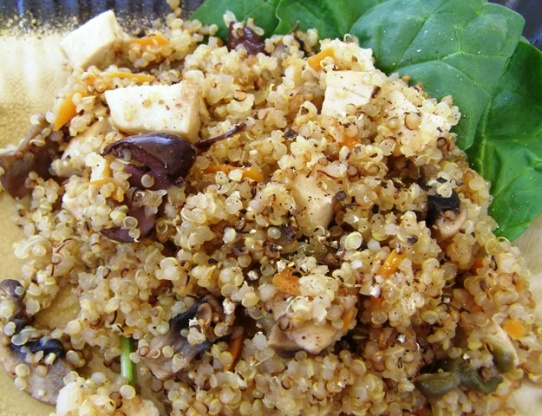 This makes such a nice side dish. I even like it cold as a salad the next day! 06/28/08 - UPDATE!! As I have already said, I like this for a salad too. Today I added some chopped egg whites, chopped black olives, some scallions (green and white). I then tossed with one tbls each of EVOO and red wine vinegar. Realllllly good! 07/24/08 - ANOTHER UPDATE! Wow, instead of using the fresh garlic, use roasted! I had several bulbs roasting while I was making dinner. They smelled SOOO good and that is when I figured it could only make this dish better. Just leave out the minced garlic and when the dish is finished, stir in about five squeezed out chopped cloves and then serve. YUM! 07/29/08 - STILL ANOTHER UPDATE! I have really gotten on the quinoa bandwagon. Put together two more recipes, so if you like quinoa as much as me, take a look. I'm not bragging, just sharing a good thing....Two Grain Spinach Toss and Quinoa Plus Casserole.

Mmmmm, lovely and tasty! I try to cook an excess at mealtimes so that I have leftovers to eat at work the next day, but if that fails then I just cook something different up the night before to take with me. That's what I've done tonight with this recipe but I've just had a mouthful now and it was delicious - a flavour sensation! I followed the recipe pretty closely but added some grated courgette (zucchini?) and used vegetable stock instead of water. It's really good. My hard-to-please other half tried some too and declared that he would be happy to have this served at dinner in the future! I'm looking forward to having it again with a meal and also having it cold tomorrow to see how the flavours hold. Thanks for a great recipe Happy Harry! 11.06.07 Just wanted to add that this was really tasty cold as well!
Make sure you rinse the grain under cold running water several times to remove coating (not something you can see).
Spray medium size saucepan with vegetable oil.
Add onion & cook about 3 minutes, add garlic & cook another 2 minutes.
Add rest of ingredients & bring to a boil.
Reduce heat, stir and cover.
Simmer 15 minutes or until all the water is absorbed.