Five Minute Hollandaise Sauce
diner524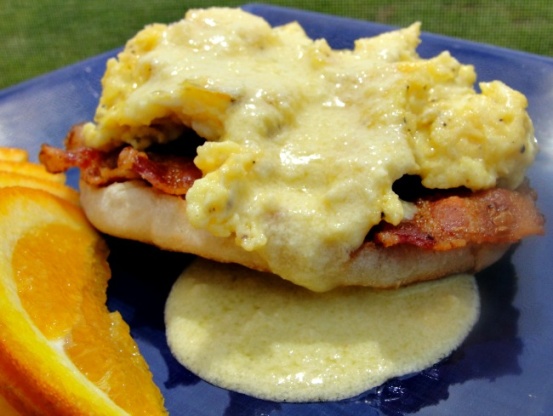 I love Hollandaise Sauce but hate making it. I found this microwave recipe in a cookbook that my parents got with their first microwave almost 30 years ago. The sauce always turns out perfectly!
What a quick and simple way to make Hollandaise sauce. I made 1/3 of the recipe, using 1 egg yolk, 2 Tb. and 1 tsp butter, 1 tsp fresh lemon juice, 1 Tbs+ water and a dash cayenne pepper. I goofed, and once I tempered the egg yolk with the butter mixture, I cooked it on high for 15 seconds. It was very runny, so I put it back in for another 15 seconds. It still wasn't right texture/sauce, so I then decided to added some heavy cream and heat it for a couple of seconds, which then did thicken it a bit, but decided to stop messing with it at that point, as it tasted very good, just not the right consistency. I made my own version of eggs benedict, using scrambled eggs with a bit of cheddar, bacon and english muffins. I loved the ease of using the microwave, versus a double boiler (that I don't have), for making this yummy sauce. Will try it again in the future, being sure to not mess up the directions. Thanks for sharing the recipe. Made for 2013 "Pick A Chef" event.
In a 1-quart glass bowl, combine butter, water, lemon juice and cayenne.
Cook in microwave on high for 3 to 4 minutes, or until butter melts and mixture boils.
With wire whisk, gradually beat in egg yolks, beating constantly.
Cook at medium-low for 30 to 60 seconds, or until thickened.
Enjoy!