Bergy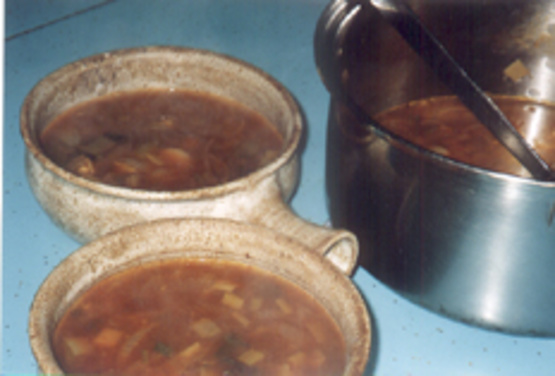 This is a wonderful vegetarian version of French onion soup (no beef stock), using five different members of the onion family. I always use my Rich Brown Vegetable Stock, but you could use a good canned vegetable stock, and if not part of a vegan meal, enjoy with garlic croutons with melted cheese! Mmmmm!

Top Review by Bergy
Excellent tasting soup. I made your Rich brown Vegetable Stock and used that as suggested - this is a very satisfying soup that is perfect on a Winters day - we had over a foot of snow last night so this went down well for lunch today. I slow sauted the veggies for almost 45 minutes until they were golden. This, I think, gave a lovely color to the soup and a mellow flavor. I put "Rosemary Garlic Croutons from St Augustine" on top of the soup in the individual bowls just before serving. I snapped a picture of the soup so watch for it in "Everything Else" Thanks EdsGirl for another "Comfort" food recipe for me to enjoy
Saute onion and leeks in olive oil until soft.
Add shallots, garlic and green onions and cook slowly for about 30 minutes, stirring occasionally, until vegetables are soft, cooked down and browned.
Add stock, soy sauce and molasses.
Scrape up browned bits, bring to a boil, then turn down heat and simmer partly covered for 30 minutes (less if you like firmer vegetables).
If not a vegan meal, this soup can be served with garlic bread croutons with melted cheese.