Five-Lentil Stew (Panch Dal)
Katzen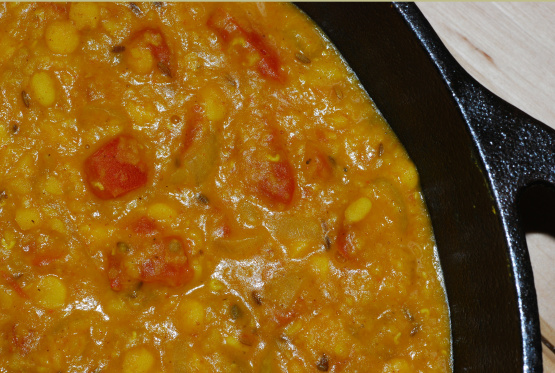 From North India. If you're like me & enjoy experimenting, go to the nearest Indian store (or online) & order up as many kinds of dal as you can & then find ways to use them! This was posted on a vegetarian website & I like the recipe so I swiped it to share here. Once you have the ingredients, it's a breeze to make! **The 2 hour soak time is NOT included in the cook time**

Top Review by Katzen
I've never made indian food before, never made dal, although I have used lentils. This was my first endeavour into the world of indian food, and what a great recipe to choose for it! I found "mix dal" at my local asian store, and happlily, it had all of the required lentils, so I used 1 1/4 cups of this mix. I took magpie's advice, and doubled the tumeric and cayenne in the lentil mix, because when I tasted it after soaking and halfway through cooking, I couldn't really make out the spices very well. I also found that when the lentils were finished cooking, they were pretty soupy (and I know this is stew), but (don't laugh), I strained out some of the water, and was really pleased with the end result! In fact, when making again, I would start with 4 cups of water because I think I removed about a cup. The flavours are wonderful, and the good news is that I'll be continuing my journey into curry after this successful dish! Thanks, Elmotoo! Made for Veggie Swap 21.
Rinse dals. Bring water to boil in large pot. Add dals, stir, and bring back to boil. Remove from heat, cover, and let sit 2 hours.
Add turmeric and cayenne to dal and bring water to boil. Reduce heat slightly and simmer until dal is tender, approximately 35 minutes.
10-15 minutes before dal is ready, begin cooking spice mixture. Heat oil in heavy skillet or saucepan over medium-high heat. When hot, add onion and garlic and fry 2-3 minutes, stirring frequently. Add cumin and garam masala and cook another minute. Add tomatoes and salt and cook until tomatoes have been reduced, approximately 10 minutes.
Add onion mixture to dal and stir well. Cook 2-3 minutes more to blend flavors. Taste for salt and adjust seasoning.
Serve hot in one large bowl or in individual-sized bowls with chapati or naan.