Dissie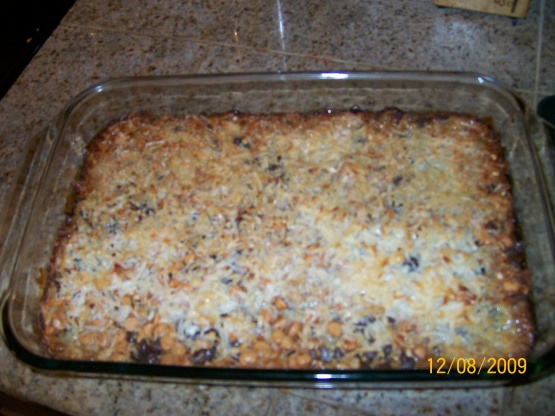 This is adapted from the FoodNetwork.com Paula Deen Show

These have been around forever! I remember my mom making these in the 60's and 70's! Always loved them.
Preheat oven to 350 degrees F.
Combine graham cracker crumbs and melted butter.
Press into bottom of a 9 by 13-inch baking dish.
Sprinkle the butterscotch morsels over the crust.
The layer the chocolate morsels, pecans, and coconut, in the order given.
Pour sweetened condensed milk over the layers.
Bake for 30 minutes.
Allow to cool and cut into bars.
TO GIVE AS A GIFT:.
In a decorative jar, layer pecans, butterscotch morsels, coconut, and chocolate morsels. Spoon graham cracker crumbs into a small plastic or cellophane bag and place on top of the layers.