Diana F.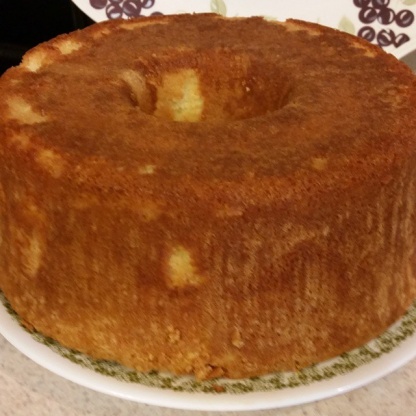 I just tried this cake for the first time at funeral in Chicago. After the first bite, I went in search of the cook and talked her out of the recipe. All those different extracts may sound strange, but trust me it is wonderful! At the bottom I have included Six Flavor Pound Cake and Seven Flavor Pound Cake variations. Also, you can make a 5 flavor cake with a 6 flavor glaze or any other combination.

This is, without a doubt, the Queen of all pound cakes! The blend of flavors is superb. I used 6 flavors because that is what I had on hand (no pineapple). I increased the vanilla and almond to 1 1/2 tsp. because I wanted those flavors to stand out. I used real butter, pure vanilla and pure extracts if available. The glaze gives the crust a nice light crunch without adding too much extra sweetness. It actually soaks in so you don't even see it. Perfect texture--all in all the perfect pound cake, in my opinion! I also gave the recipe to a girl I work with and she made it before I did so I got to taste it before I made it. She loved it too, but she thought it was a little on the sweet side (I didn't think so, but it IS very rich). We both agreed that we will make it again. THANK YOU Sharlene--I will guard this recipe with my life!! Another note: This made a large cake. I baked it in my stoneware fluted pan and it raised up and over the top of the tube. Next time I will bake it in my regular tube pan which has a taller tube.
Preheat oven to 325°F.
Grease a 10-inch tube or Bundt cake pan.
In small bowl, combine flour, baking powder and salt; set aside.
In a measuring cup, combine the milk and 1 teaspoon of each of the 5 extracts; set aside.
In mixing bowl, cream butter, shortening and 3 cups of sugar until light and fluffy.
Add eggs one at a time and beat until smooth.
Beat in flour mixture alternately with milk mixture, beginning and ending with flour mixture.
Spoon mixture into prepared pan.
Bake for 1 1/2 hours, or until cake tests done.
Let cake cool for 5 minutes and then pour 1/2 of glaze over cake (while still in pan).
Let sit for another 5 minutes and then turn cake out of pan onto wire rack (with waxed paper under rack to catch drippings).
Slowly spoon remaining glaze onto top of hot cake.
Cool completely before serving.
To make the Five Flavor Glaze: In saucepan, combine 1/2 cup sugar, water and 1/2 teaspoon of each of the 5 extracts.
Bring to a boil, stirring until sugar is dissolved.
Variations: Six Flavor Cake/Glaze: Add 1 teaspoon of almond extract to Five Flavor Cake ingredients and 1/2 teaspoon almond extract to Five Flavor Glaze ingredients.
Seven Flavor Cake/Glaze: Add 1 teaspoon pineapple flavored extract to Six Flavor Cake and 1/2 teaspoon pineapple flavored extract to Six Flavor Glaze.