Five Cheese Stuffed Chicken Breasts
Redsie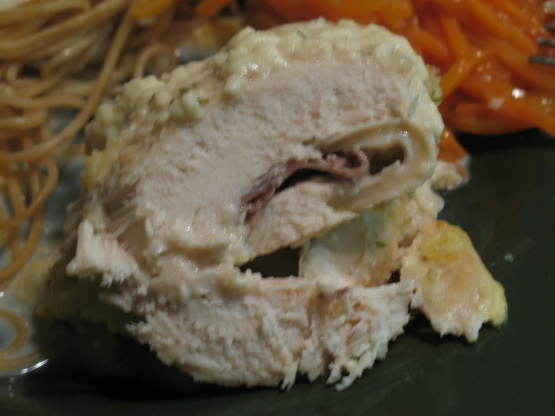 Wonderful cheesy stuffed chicken breasts topped with a cheese sauce when served. This recipe makes four chicken breasts, but can easily be doubled if desired.

Very good. My husband lapped this dish up like he hadn't eaten in years. I had a ton of the ricotta/egg mixture leftover so I think I will try to come up with a way that I can use that, but other than that everything was easy, tasty, and will be eaten again in our house!
Set oven to 400 degrees.
Grease an 8 x 8-inch square baking dish.
With a wooden mallet, flatten each chicken breast carefully.
In a small bowl, mix the ricotta, Parmesan cheese and egg.
Place 1 slice of Swiss and 1 slice of mozzeralla cheese on each of the flattened chicken breast.
Place 2 tsp of the ricotta mixture in the center of each breast.
In a small bowl mix the breadcrumbs with seasoned salt and black pepper (you could add in 2 tablespoons Parmesan cheese to the breadcrumb coating mixture if desired).
Roll up the breasts tight and close with a toothpick.
Roll in breadcrumb mixture, and brown in frying pan.
Remove from the pan, and place in a prepared baking dish.
Bake for 20 minutes.
On top of the stove in a saucepan, mix together the cheddar cheese, half and half cream and the chicken broth; stir until the cheese has melted.
Before serving the breasts, cover each breast with the cheese sauce.