Five-Cheese Noodle Casserole
Prep 20 mins
Cook 45 mins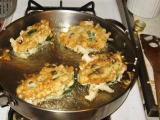 Fast, easy, no meat, and tastes great. The recipe came from the back of the Inn Maid brand noodles package. The prep time includes the time it takes to cook the noodles. This one might stay on your casserole rotation list -- it's certainly going to remain on mine!
Directions
In a large mixing bowl, blend together the cottage cheese and cooked noodles. Pour this blend into a 9" x 13" casserole dish that has been sprayed with cooking spray.
Using a large saucepan, pour in the soup, half and half, cream cheese, cheddar cheese, salt, pepper, and butter. Heat over medium-low heat until melted and blended. Pour this over the noddles in the casserole dish.
Sprinkle the top of the casserole with the croutons and the parmesan cheese.
Bake at 375-degrees F. for 15 minutes.
Most Helpful
This casserole was a bit too bland for us. I don't think the cottage cheese added anything. I thought I would really like it and wanted to try something different with a spiral ham dinner but I was disappointed. It did make a HUGE amount....this might be good for a church pot-luck dinner!
This casserole is excellent! A must for cheese lovers like myself. I used milk instead of half & half & crushed the croutons on top...it turned out wonderful. Very easy to make.
We loved this will make again