3 Reviews
This does make a lot of soup and as another reviewer stated, it is thick and hearty. I just had some leftovers for lunch today and it tastes even better after a day in the fridge. Having read the other reviews, I used somewhat over 1/4 cup of chili garlic sauce (maybe more like 1/3?). I like things pretty spicy, but this amount was perfect for me. I can't imagine using 3/4 cup and enjoying it like that (or even being able to eat it). Otherwise, I followed the directions as stated. I garnished with cilantro. I don't like sour cream, so I subbed Greek yogurt. This soup was much enhanced by stirring a dollop of Greek yogurt into my individual bowl. I will definitely serve with Greek yogurt as a key ingredient in the future. Thanks!

This certainly makes a lot of soup (6-8 is about right) that is thick, hearty and SPICY! I only used 1/2 cup Sriracha, and it was teetering on the edge of "too hot". The sour cream is a must to temper this. I made this exactly as posted, except I used a 14.5 oz. can of fire-roasted diced tomatoes in place of the stewed. I will definitely make this again, perhaps toning it down a little more. Made for 1-2-3 Hits Tag Game.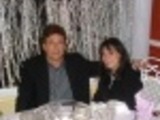 Woo doggies this was hot stuff! I didn't even use the stated amount of siracha sauce. I did make a big boo boo and accidently used red split peas instead of lentils and it took a long time to get them nice and soft. Great flavor. Must use sour cream to temper the heat factor. Thanks!

Five-Alarm Lentil Soup