This is a great chunky stew that is made in the crock-pot. Slightly adapted from a Pillsbury recipe.
Directions
In a 4-quart crock pot, add the oil, onion, and garlic; stir to mix well.
Add in the carrots, tomatoes, bell pepper, fennel seed, bay leaf, wine, and clam juice; stir to mix.
Cover and cook on LOW for 8-9 hours.
20 minutes before ready to serve, add the cod, shrimp, sugar, basil, salt, pepper, and hot sauce; stir to mix.
Cook on HIGH for 15-20 minutes or until fish flakes.
Take out bay leaf and add parsley; stir and serve.
Most Helpful
I've cooked this dish several times. I followed the directions except where it called for fresh parsley (using dried instead and putting that in with the fish). This dish was easy to make and was delicious every time. It is so rich but yet there's no milk in the recipe. The hot sauce gives it that extra kick.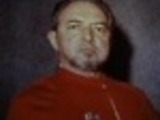 This was a pleasant surprise! I had a bunch of whiting in my freezer that I didn't know what to do with b/c I don't care for it, but this stew made it taste pretty good! I used that in place of the cod, and used a can of diced tomatoes in lieu of fresh. Next time I might try replacing half of the wine with vegetable or chicken stock, as there was something a bit acidic about the broth and I wished for a little bit more savory flavor. Overall, though, this was tasty and I will definitely make it again. Thanks for posting!!