Fisherman's Wharf Grilled Cheese
Debi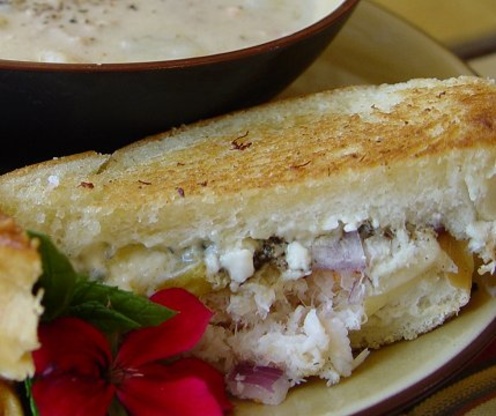 Nothing is better than a warm grilled cheese on a long cold day. Well now the classical grilled cheese got kicked up 1 more step with the inclusion of crabmeat and blue cheese. Round this dinner out with a warm bowl of clam chowder soup.

I wasn't completely impressed with the crabmeat. I loved the idea of the blue cheese, but the crabmeat was just off to me.
-Spread mayonnaise evenly over 1 side of 4 slices of bread. Layer the 4 pieces of bread with blue cheese, pepper, onion, crabmeat, sliced bell pepper and 1 slice of havarti cheese. Top all slices with remaining slice of bread.
-In large skillet melt butter. Cook the sandwiches for 3min. per side or until golden brown and cheese is fully melted.