Fish With Macadamia Butter Sauce
gailanng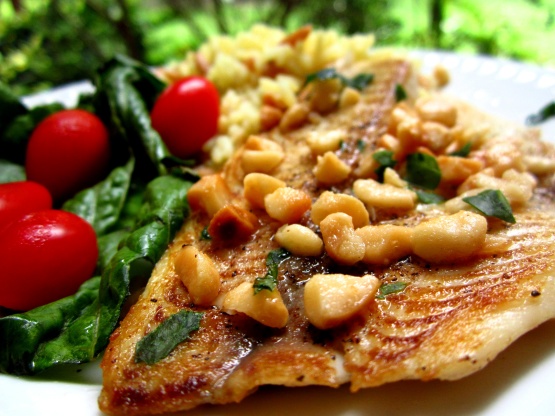 The original recipe suggesed using barramundi fillets. Any white fish fillets work well with this recipe

Amazing, I loved the slightly toasted taste of the macadamias along with fish! I used flathead fillets and think it would suit many other white fish although would avoid anything too plain like say cod. The sauce doesn't bind together in the usual sense but it means you get a multiple explosion of flavours in layers because the buttery macadamias sit on on top while the nut infused butter sits underneath which makes it all the better.
Heat the olive oil in a pan over medium heat.
Add the fish fillets and cook 2- 3 minuts each side( cooking time depends on the thickness of the fillets). Transfer to a warmed plate and cover with foil to keep warm.
Reduce heat to medium low. Add the butter and chopped macadamias. Cook, stirring, for about a minute- until the butter and nuts are light golden brown. Watch carefully as you dont want the butter to burn.
Remove from the heat. Season with salt and pepper. Stir in the parsley.
Serve the fish and spoon over the macadamin and butter sauce. Serve with lemon wedges.