Bergy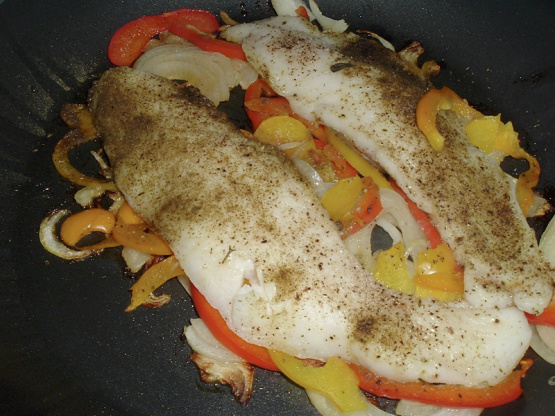 A long time ago I was flipping through one of my mother's cookbooks, which happened to be from weight watcher's. I found this dish and find it very easy to make and is healthy for you. I have used several types of fish and it always tastes good. I hope you enjoy it.
What a simple, easy and wonderful tasting dish! I followed another reviewers idea and marinated the fish (I used cod) with Wasabi Teriyaki Sauce for about 15 minutes then followed the recipe the rest of the way. Yummo! I served it with Recipe#207084#207084 and rice. DH definately wants this dinner again...it was tasty and easy why not. Made for Zaar Alphabet Soup tag game 2010. P.S. This recipe is going in my "Best of 2010 Favorites". Thank you.
If fish are large, cut into 4 servings.
Heat oil in 10-inch non-stick skillet.
Layer onion and bell peppers in skillet.
Sprinkle with half of thyme and pepper.
Place fish over bell peppers and sprinkle with remaining spice.
cover and cook over low heat for 15 minutes.
Uncover and cook until fish flakes easily with fork, 10 to 15 minutes longer.