Thorsten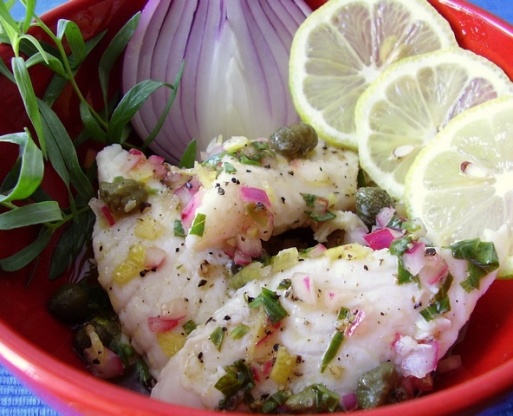 A delicious cold fish dish tangy enough that people who normally dislike fish find it tasty. I prefer to use fresh fish, but it also tastes fine using frozen fish which has been thawed. I usually serve the fish on a bed of salad greens, garnished with tomato wedges. This dish goes well with baby new potatos and green beans. The 2 hours in the 2 hr 18 min preparation time is the chilling time.

Marvellous. I knew from the first reading that this would be a great recipe, but it turned out as one of those rare gems you have the luck to find sometimes. The grilled fish has still a firm texture and delicate flavors. The marinade adds its own different flavors. Terragon, olive and the capers gave the marinade a special touch. The taste of fish and marinade after chilling are well balanced. Both can stand on their own, but together they are wonderful. The recipe is very easy (I would say foolproof) and can be prepared in advance even for a large number of guests. Use the fish you like most or (for guests) use different fish fillets. Serve it with some roasted bread and you will have an extraordinary dish and your guest will ask you for this recipe again and again. This is a winner and a keeper. Try it, love it.
Combine the water, 1/4 cup vinegar, 1/4 cup lemon juice, peppercorns and bay leaf in a large skillet and heat to just below boiling point.
Add fish fillets and poach 5-7 minutes until done, turning once; do not let the liquid boil.
Drain and cool, discarding the bay leaf and peppercorns.
Make a vinaigrette dressing by combining the olive oil, 3 tbs vinegar, 3 tbs lemon juice, lemon zest, onion, capers, parsley, tarragon, salt and pepper in a jar and shaking vigorously.
Break the fish into pieces and place in a bowl; pour the dressing over the fish, cover and refrigerate at least 2-4 hours.
Serve chilled.