Prep 30 mins
Cook 10 mins
Serving size: 2 tacos per person. Recipe source: Health (April 2010)
Directions
In a pie pan or dish combine oil, 2 tablespoons lime juice, chile powder, 1/2 teaspoon salt, and 1/2 teaspoon pepper. Toss fish in mixture and then chill for 15 minutes.
Meanwhile make relish by combining relish ingredients in small bowl (cucumber, onion, oj, 2 tablespoons lime juice, sugar, remaining salt (1/2 t) and remaining pepper (1/4 t). Set aside.
For the dressing combine mayonnaise, sour cream and remaining lime juice (2 T) and refrigerate until needed.
Prepare grill and spray with Pam and heat to medium high. Grill fish 2-5 minutes per side or until done. Remove from grill and let cool slightly before dividing fish pieces in half while warming tortillas on grill (less than 30 seconds per side) -- wrap in foil to keep warm.
Stir serrano chile into relish.
To make tacos: spoon 2 T relish into each tortilla, flake fish piece onto the tortilla and then top with salsa and drizzle with the sauce. Fold tortilla (taco) in half and serve.
Reviews
Most Helpful
ellie_ , you have a winner here. Not a fan of fish, but a great fan of tacos. Another reviewer pointed the way...and I found peace for fish. This was excellent. I didn't change anything...except I grilled inside. That's it. The sauce. Excellent. The salad/compote? Excellent! The fish...oh I wish I could swim like a fish. You have a won on this recipe, ellie! Keep it up! Loved, loved, loved.

This recipe is going into my best of the best file! I loved these fish tacos. I was a bit skeptical, too. I normally top my fish tacos with a slaw and avocado. I ended up loving the cucumber relish. It worked so well with the mayo/sour cream mixture and the salsa with serrano peppers. By the way, I loved the serrano pepper added to the salsa - it made such a difference! Also, I don't normally care for corn tortillas but grilling them made all the difference in the world. They were awesome here. I only made one change, I used tilapia. Thank you for a fabulous recipe!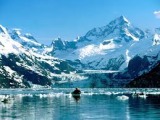 Awesome recipe. I only gave it 4 stars because I didnt stick to the recipe. I put my own spin on things like using Tilapia, and instead of just using chili powder, I also used taco seasoning, then baked it in the oven @400 for 5-7 mins. Now with my dressing, I added a little dill (cause it goes great with fish) and garlic powder just because I love it. And with my relish, well it really wasn't a relish. I just chopped up a cucumber, a tomato, red onion, avocado, lettuce and kept it all on the side so that my family could pick and choose what they wanted to put on the taco(which by the way I used muli grain wraps)Oh and I didn't use any salsa cause we didn't have any in the house. Over all it came out fantastic. If i never saw this recipe I would never have been able to figure out a yummy way to put one of these together,Thanks for posting it. Defiantly a keeper