Ashley Cuoco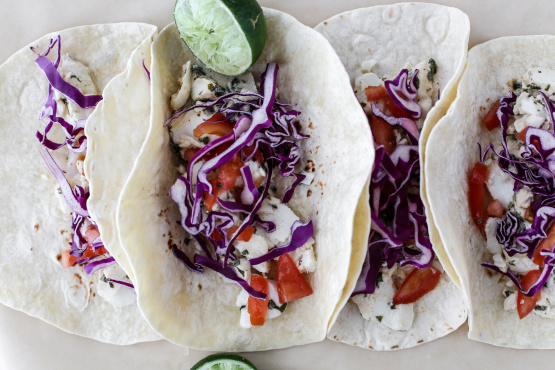 We got the best fish tacos in a little fishing village in Mexico. I have tried to recreate them as best as possible

GREAT recipe. I used Tilapia.

PROS: Amazing sauce, very quick and easy, cutting the fish into pieces rather than strips is perfect, overall taste fantastic

CONS: as other reviews have stated only use 1 T. oil and 1 chopped green onion added to the sauce is a Necessity. While adding hot sauce later is good, mixing 1 t. garlic/chili sauce in with the fish before frying is better,

OVERALL: This is definitely my new fish taco recipe. 4 stars for the few needed additions/subtractions but this one is worth making monthly or for friends.
Combine sour cream, mayonnaise, cilantro and 2 tablespoons seasoning mix in small bowl.
Combine fish, vegetable oil, lemon juice and remaining seasoning mix in medium bowl; pour into large skillet.
Cook, stirring constantly, over medium-high heat for 4 to 5 minutes or until cod flakes easily when tested with a fork.
Fill taco shells with fish mixture.
Top with toppings.