JustJanS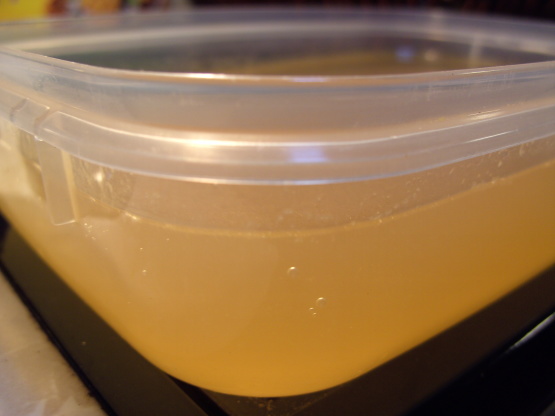 I had prawn shells and fish heads left over once, I thought it was such a shame to throw it all out. So I came up with this recipe. You can freeze it in small portions to use when you want. Fish trimmings can be skins, heads, tails, whole fish, shells of lobster,crayfish, prawns and mussels.

left out the garlic (used fresh lemon thyme instead) and added the carrot & onion after straining the salmon carcass (sans head) - fabulous! Reduced by half and strained again - freezing for B-day cioppino. Can't wait!!!! TY for a simply elegant recipe for fish stock. If they aren't going to get crabs, our white fish carcasses are going for this all summer! Can't wait to make clam chowder next fall with this stuff! KEEPER!
Cut the vegetables into even size pieces. No need to be exact for this one.
Place in large pan with the fish trimmings and cover with 1.2 litres of water. Wash the parsley thyme and bay leaves and place in the pan with the peppercorns and garlic.
Bring pan to boil over a low heat, reduce heat and simmer for 30 minutes. It help to skim the stock a few times during cooking. (Do not cook the stock for longer than 30 minutes at this stage, as I have noticed the stock becomes a little bitter).
Strain stock through a fine sieve, making sure that no bones get into the stock. (I sieve a few times over to make sure).
Return the strained stock to a clean pan and boil for 10-15 minutes. (This step helps the stock to reduce a little and become more intense in flavour).
Cool stock and freeze stock in small portions for use when required.