Kathy228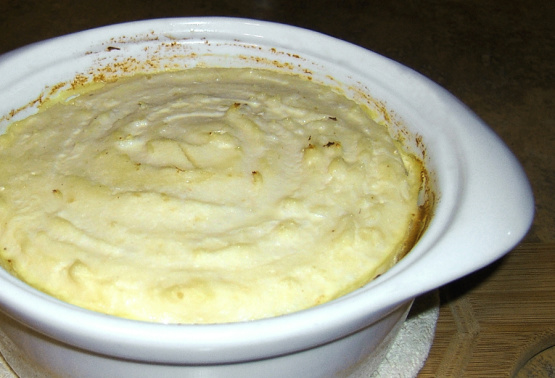 Molded into balls this is fiskeboller. Baked in a loaf it is called fiskegrot. The Norwegian table would not be without this basic form of fish. The Norski (Norwegian) immigrants brought their eating habits from the old country with them to the New World, and this is a perfect example.

I really liked this. And its easy and fast to put together. To us, the taste was delicate. You can taste the fish, but it was not at all strong. Just a very nice mild fish taste! The nutmeg should not be omitted. It sliced into serving pieces nicely. I served it with sauteed spinach and onions in bacon drippings; and steamed red skins. Oh... I made a Béchamel sauce with fresh rosemary and a handful of peas then drizzled it on the slices. What a wonderful dinner. Thanks for the posting this recipe!
Place the fish in a food processor and process until smooth. You may have to do this in 2 batches.
Remove it to the bowl of your electric mixer.
Add the potato starch, seasonings, and the eggs, 1 at a time, beating in thoroughly.
Add the butter and then the cream and milk, beating until light and fluffy.
Place mixture in a buttered loaf pan, cover with foil, then place the pan in a large pan of hot water. The water should come 2" up the side of the fish pan.
Bake at 350 degrees for about 1 hour.
Slice and serve with a cream sauce. Or you can serve it with fried onions instead.
You can also mold the fish batter into small balls and poach them in fish stock.