GaylaJ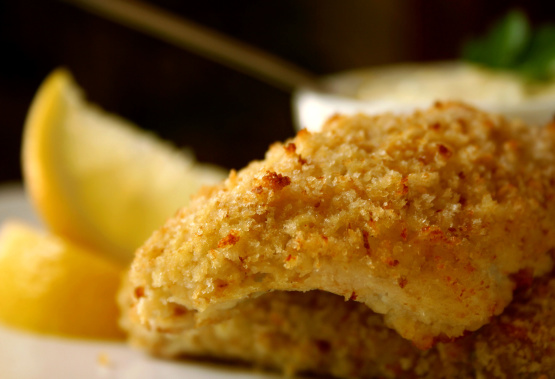 Easy and fast to make finger food. Can be easily prepared in advance and scaled up for guests. Serve the nuggets with your favorite salsa, sauce or dip. I love these fish nuggets, because they are made without any fat. This is a comfort food I like very much. I like them hot and even cold they are delicious.

Wow! These are addictively good and so easy to make! I usually don't like fish, but the taste and texture of these was wonderful. I also added a bit of tobasco sauce to the mustard/milk/yoghurt mixture, and used Italian Seasoned breadcrumbs with a dash of Salmon Seasoning. Wonderful and will definitely make again!
Preheat oven (395°F, 200°C). Line out a baking tray with baking parchment.
Cut fish fillet bite-sized pieces (nuggets). Drizzle with lemon juice. Sprinkle with salt and pepper to taste.
In a bowl combine milk, egg, mustard and yogurt. Mix well and add salt and pepper to taste.
Dip the fish nuggets into milk mixture to cover nuggets with the sauce.
Take nuggets out of the sauce (using a fork) and let drip off excess of sauce and coat with breadcrumbs.
Place them on the baking tray and bake them for 10 minutes. Then heat up the oven and broil them until they are golden brown.
Take them out of the oven and serve them hot with your favorite sauce, salsa or dip.
NOTE: Can easily prepared in advance and freeze. Follow the directions and bake them only for 10 minutes. Take them out of the oven and freeze them. To serve: take them out of the freezer, thaw and broil them until they are golden brown.
NOTE: I do not have given the amount of breadcrumbs needed. Sometimes I need more, sometimes less. But coat the nuggets only with a thin layer of breadcrumbs. You can replace the breadcrumbs by ground almonds. This will add a nutty flavor to the nuggets.