ROV Chef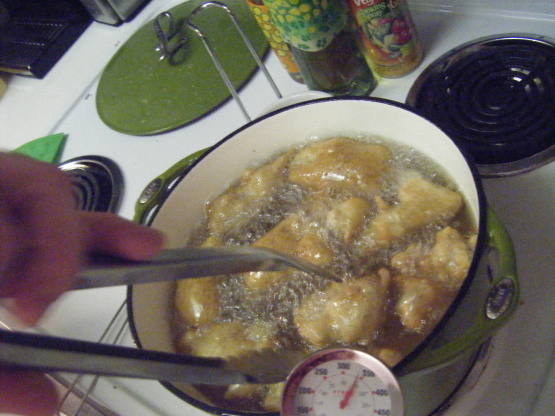 This is an alteration to Alton Brown's Chips N Fish recipe. I think the addition of the whole wheat flour adds a lot of extra flavor . I know that Alton Brown insists that a cast iron dutch oven is the best way to go for deep frying. But in my opinion, get an electric deep fryer with a basket and a digital temperature control. Watch the Good Eats "Man Food" episode for tips on selecting a good deep fryer. I posted the cooking time as 1 hour, because if you are using the dutch oven set up on an electric stove top, it takes awhile to heat up that much oil and for the heat to rebound between batches. Try this with Tartar Sauce for All Tastes
Cut up the potatoes into evenly size strips and keep them in water until you're ready to cook. This can be done days in advance. Cut potatoes will hold for days if they're kept in water.
Mix the beer batter ingredients together and let it sit in the fridge for at least 15 minutes. Can be made up to an hour ahead of time. Yes I know that 14 ounces of beer is 1 bottle plus a quarter cup, but it's needed to thin the batter out because of the whole wheat flour. Drink the rest of the bottle.
Heat oil to 320 degrees and cook the potatoes in small batches for 2 to 3 minutes, or until they'r are soft and floppy. Set them aside to drain and cool.
Once all your potatoes are par-cooked, crank the heat up to 375 degrees and cook the potatoes till they're golden and crispy. Place the cooked fries on a draining rack in the oven set to warm.
Set the oil temp to 350 and get ready to fry the fish.
Cut the fish into flat filets and dust them in the corn starch. Shake off the excess and add to the batter in small batches.
When fish is evenly coated in batter slowly. Use your bare hands for this, they are the best tool for the job. Trust me, you wont get burnt unless you dunk your entire hand in the oil. Submerge each piece, one at a time into the hot oil. Wait for it to start bubbling and puffing up a bit before you let go.
Cook the fish for about 2 minutes and then roll them over and cook for another 2 minutes. Remove the fish from the oil and place on a draining rack in the warm oven while you cook each batch of fish. Should take 4 to 6 batches, depending on how big your frying rig is.
Serve with malt vinegar and tartar sauce. Try putting some malt vinegar in a spray bottle so you can mist an even coat on the fish.