loof751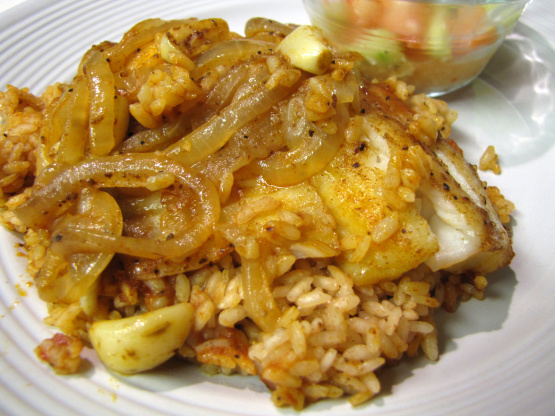 This is good with a fresh salad on the side. "Fish kabsa is a dish coming from the cities that border the sea and gulf in Saudi Arabia. Any white fish fillet that you may like would work well in this recipe." Modified from a recipe found on yasalamcooking.com.

I love this recipe! I've made it 3 times now. Only adjustment I made is the first time, I added some diced fresh tomato and some fresh spinach with the rice to add a little more nutritional content and i replaced the pine nuts with almonds and it was sooo very good, Allahumma Baarik. This last time I only added the spinach and i didn't have any tomato paste, but it was still delicious.
And I love how fast I can prepare it. Definitely a recipe I will continue to make insha'Allah.
In a large pan on medium heat add butter, onions and garlic; cook until tender. Add Arabic spice mix, mix well. Carefully add fish and allow to cook halfway on each side until lightly pink-white. About 1 minute or less on each side. Remove fish/onion mixture and set aside.
Add tomato paste and bullion cube to pan, cook a little then add rice and water. Carefully place fish mixture on top. Raise heat to high and allow to come to a full boil, cover and reduce to low. Allow to cook until rice and fish are thoroughly cooked. Depending on the thickness of the fish fillets and the rice type, adjust timing.
Once done, arrange fish kabsa on a serving platter and decorate top with cilantro and pine nuts.
Serve with a fresh salad.
Enjoy!