Fish in Coconut Milk Curry
Marlitt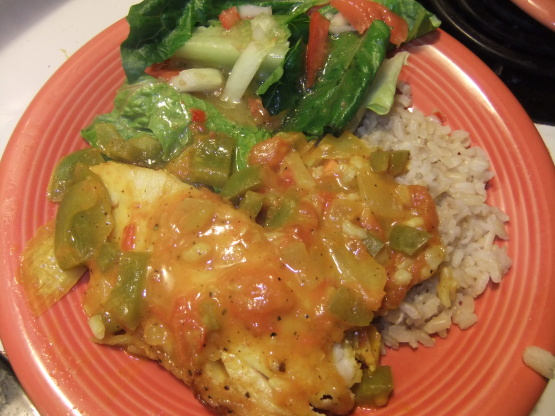 This is an original Swahili recipe from Kenya. Posted for ZWT7-Africa. I found this on the internet.

A delicious recipe. Very easy to prepare, as well. I did not have tamarind but used fresh lime juice and a pinch of brown sugar. <br/>We served it over white rice. <br/><br/>Thanks for posting.
Cut the fish in serving pieces.
Chop the onion, bell pepper, garlic, and tomatoes in small pieces.
Heat the oil over medium-high heat in a large pot.
Sear the fish filets and put them on a separate plate. Do not cook through.
Reduce the heat to minimum and add the pepper and onion. Saute until the onion is semi-transparent.
Add the garlic, and saute for 2 minutes.
Add the tomatoes and bring to a boil. Add the rest of the ingredients, bring to a boil and reduce heat to simmer.
Add salt and pepper to taste. Add the fish filets.
Cover the pot and simmer until the fish is cooked through, which should take up to 10 minutes.
Serve with rice, boiled potatoes, chapatti, or broiled cassava.