Fish Fillets in Red Pepper Sauce
mianbao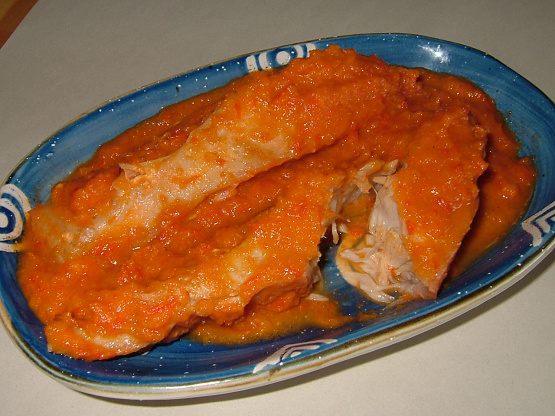 This recipe is good using Cod, White fish, Haddock, Orange Roughy or Scrod. This recipe comes Daily Diabetic Recipes.com.
I a large non-stick skillet, saute the onion and garlic in oil until tender, about 5 minutes.
Add the red peppers, coriander, and pepper flakes; saute 1 minute.
Cover and cook over low heat until the peppers are very tender, about 8 minutes.
Transfer the mixture to a food processor or blender (Or use hand blender for less clean up);Blend until smooth, scraping down sides twice.
Stir in 1/4 teaspoon of the salt.
Sprinkle the fish with the remaining 1/4 teaspoon salt and place in the same skillet.
Spoon the puree over the fish; cover and simmer until the fish is opaque, about 8 minutes.
Serve the fish topped with pepper puree and with lime wedges.