Fish Fillets in Cornmeal (Polenta) Crust
Marlitt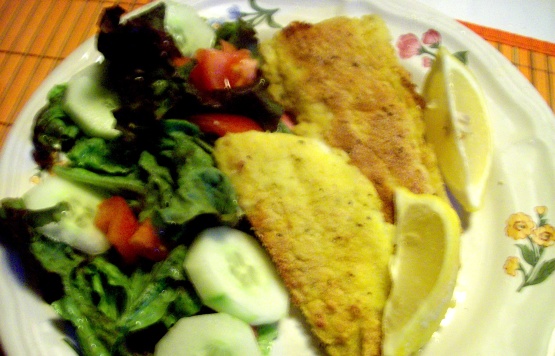 Fish fillets with a cornmeal (polenta) crust instead of crumbed. Gluten free if you use a GF flour- you can use rice flour, maize cornflour or a good GF flour blend. You'll be pleasantly surprised with this fish. The polenta crumbing is delish! For lactose free use a soy or rice milk

I loved this what a great meal this made. I used Orange Roughy fish and followed the recipe. Very easy to make. Oh I used lemon pepper instead of pepper. I never used milk to dip the meat in before breading. This worked really well though. Thanks you. This will be made often. Made for zwt III .
Rinse fish in water and thoroughly pat dry with paper towel.
Coat fish first in flour, then dip in the milk and then the cornmeal.
Chill for 10 minutes in the refrigerator-this helps the cornmeal set onto the fish.
Shallow or deep fry.