Fish Fillets in Cornmeal (Polenta) Crust
Marlitt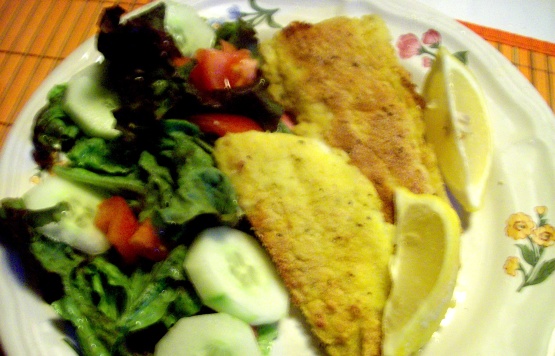 Fish fillets with a cornmeal (polenta) crust instead of crumbed. Gluten free if you use a GF flour- you can use rice flour, maize cornflour or a good GF flour blend. You'll be pleasantly surprised with this fish. The polenta crumbing is delish! For lactose free use a soy or rice milk
Top Review by Cat D.
I omitted any sort of salt or pepper. I did not put it in the refrigerator because I was in a rush. It came out fantastic! Delicious. It did not need salt of pepper for my taste. My mom put Tamari Soy Sauce on. With the left over flour, milk, and polenta, I mixed them together and cooked them as pancakes, it it was a big hit! Marvelous: Sweet, crunchy, healthful, delicious. So: Thanks for the great recipe!
Rinse fish in water and thoroughly pat dry with paper towel.
Coat fish first in flour, then dip in the milk and then the cornmeal.
Chill for 10 minutes in the refrigerator-this helps the cornmeal set onto the fish.
Shallow or deep fry.