Fish Fillet With Honey Lemon Sauce
Rieaane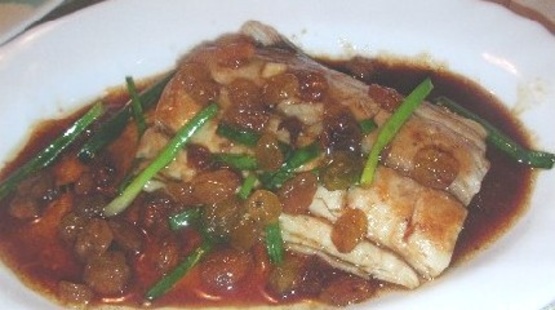 The combination of honey and lemon makes this fish taste deliciously different. This is best if grilled over charcoal but if you are not quite fond of charcoal grilling like me then you can grill it on pan with almost the same taste.

I just tried this recipe earlier and my hubby loved it. But we baked it instead of grilling. The flavors of the sauce were alive and full of texture. The raisins were perfect for the citrus flavor of the sauce. Best of all it was a healthy dish! Love it!
Marinate fish fillets for at least 1 hour. Drain.
Grease the non-stick frying pan with the cooking spray.
Heat and grill the fish fillet until lightly brown, turn and grill the other side. (To avoid sticking, spray the pan again when turning over the fishes). Continue grilling until done. Transfer to a dish and set aside.
Combine all the remaining ingredients except the green onions.
Heat the mixture in a skillet for 1 minute. Stir in the green onions. Turn off the heat.
Pour the mixture over the grilled fishes and serve.