Fish Fillet With Garlic Butter and Black Olives
loof751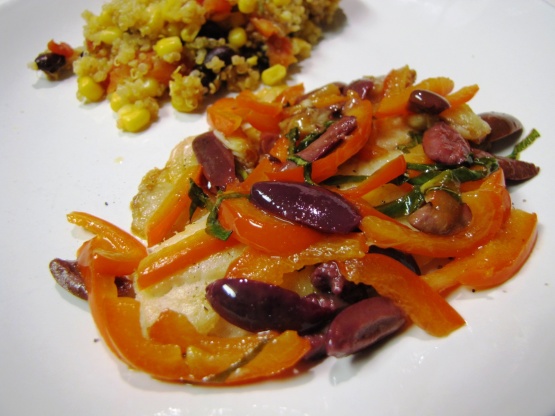 A recipe from the Coup de Pouce, I think it's from March or April. Tilapia and halibut can be used in this recipe.
This is a wonderful little fish recipe. I do not eat red meat, but I eat lots of fish, so always looking for a good fish recipe. The additional of the capers and olives give it a Mediterranean feel and the lemon and cloves add a freshness to the recipe. I did not use a 1/2 cup of butter and used olive oil instead of vegetable oil. Thanks for a nice simple fish recipe.
In a large skillet, heat butter and garlic at medium heat until butter is frothy. Reduce heat to medium-low (or at low heat if butter is golden too fast) and cook for 15 minutes or until butter is golden, stirring from time to time. Reduce in purée the garlic cloves. Add red bell pepper, black olives and capers and cook for 4 minutes. Add sage and lemon juice and stir.
Meanwhile, in another large skillet, heat oil at medium-high heat. Add fish fillets and cook 6 to 8 minutes or until golden and the flesh is easy to flake with a fork (flip the fillets one time during cooking). Garnish the fillets with garlic butter and olives.