Fish & Creamy Curry Sauce
JustJanS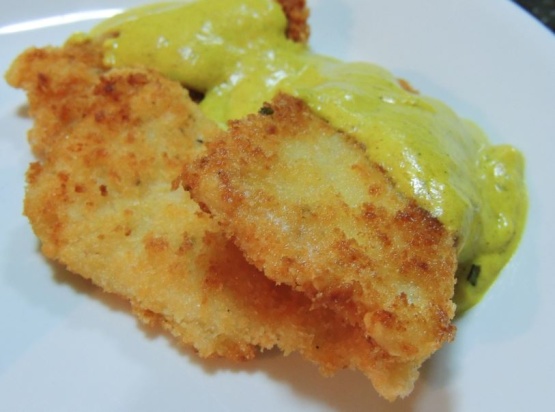 I think this was originally a Kraft recipe. This sauce is lovely, it's creamy but with a kick from the curry powder. The sauce also goes well over steamed broccoli as a side to this.

What a different addition to my fish repertoire! I did find the sauce just a little thick for our likings so I added some more milk, plus I added a little lemon juice to the sauce to pick it up a bit. I steamed the fish and served it with salad and jacket potatoes.
Remove skin from fish & sprinkle with lemon juice.
Melt butter in a pan, add curry powder & flour & stir for a few minutes.
Slowly stir in the milk and cook stirring for 1/2 minute.
Stir in mayonnaise, salt, pepper & sour cream, simmer for one minutes & add parsley, set aside until needed.
Cut fish into bite sized pieces & coat with seasoned flour, dip into egg which has been combined with water and coat with breadcrumbs.
Deep fry fish in hot oil until golden & tender, drain & serve with sauce which has been reheated.