" Fish & Chips" Appetizer
Jill4man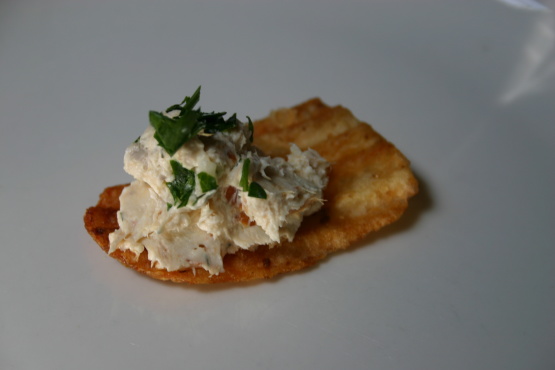 This is a fun and easy take on "Fish & Chips" that is so yummy!! My husband and I went to an open house and they served something similar so I went home and whipped up my own creation which I actually think tasted better! I usually use full fat mayo and cream cheese, but you can certainly substitute low fat. I served it cold, but it could also be warmed and be equally as good...enjoy!
Mix everything together in medium bowl except the salmon and fresh parsley. Stir to combine.
Mix in salmon and about half the parsley.
Put a dollop on a chip and sprinkle with additional parsley. Arrange on platter.
***Can be served in a bowl with chips on the side but I like the presentation of the chips already loaded. Also, as mentioned above, you could warm it in an over at 350 until bubbly. Enjoy!