Peter J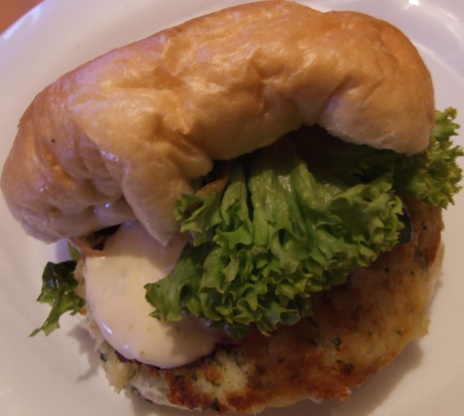 Yummy fish burgers with a fantastic tartar sauce to match. I'm not normally a huge fan of fish but these are just too good! cooking time includes one hour of refrigeration.

Really tasty! Although I'm a fish lover myself these had a wonderful creamy texture from the potato that also tended to hide the fish to a degree. My girlfriend not so much into fish loved them as did I so I think it's a great all-rounder type fish recipe sure to please everyone. I did the tartare sauce using a food processor and made a little extra to use on another fish dish tomorrow.
Place the fish in a frying pan and cover with water. Slowly heat the water, without boiling. Cover and cook over low heat until just cooked. Drain, transfer to a bowl and flake with a fork. Add the parsley, dill, lemon juice, capers, gherkin and potato, season, and combine well. Divide into four portions and shape into patties. Dust with flour, then refrigerate for 1 hour.
Meanwhile, make the tartar sauce by mixing the mayonnaise, 1/2 gherkin, 2 teaspoons capers, malt vinegar, 2 teaspoons fresh parsley & lemon juice together in a bowl.
Heat the oil in a large non-stick frying pan. Cook the patties for 5-6 minutes on each side, or until well browned.
Place some lettuce leaves, tomato slices, a fish patty and a quarter of the tartar sauce on each bun.