Fish Balls in Tomato-Basil Sauce
Mivashel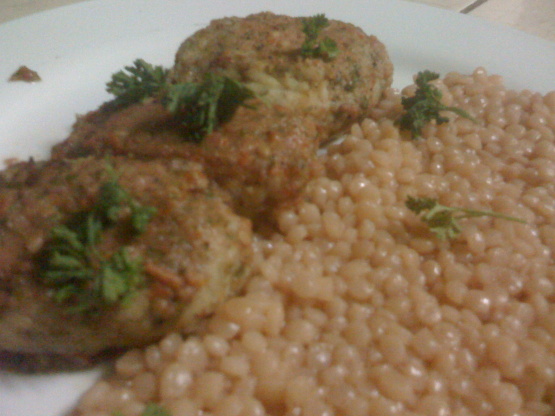 This Italian and Libyan- influenced dish is great to serve in the summer months.

Very nice, easy to follow recipe - simple, with commonly available and tasty ingredients. This fits my tastes perfectly - very nice Sephardic recipe. I though the flavor was great - I ate it with flavored israeli couscous, and it was certainly a filling meal.
In a food processor, process all of the fish ball ingredients except for the fish/flour/oil. Add in the fish and mix thoroughly.
Mold the fish mixture into balls the size and shape of an egg (if the mixture doesn't cooperate and falls apart, you may want to mix in an egg to help it bind together). Dredge the balls in the flour.
Heat the oil in a skillet, add the fish and brown on all sides (approximately 2-3 minutes). Place them in a greased baking dish. Preheat the oven to 350 degrees.
In a food processor, grind all the sauce ingredients into a smooth paste. Pour it over the fish balls, and bake for approximately 30-35 minutes.
Can be served chilled, at room temperature or hot.