Fish Bake- Individual Pies- Serves 4-6
RonaNZ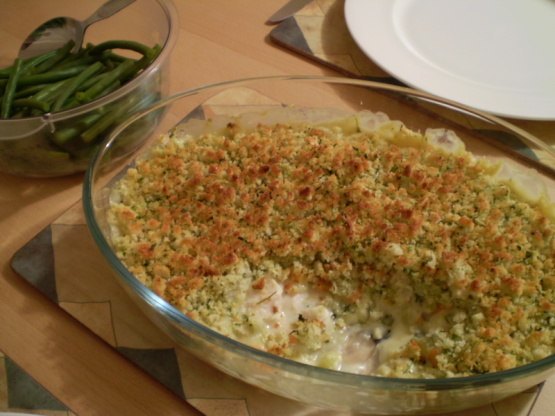 A creamy fish and veggie pie style bake. Individual serves topped with crumbs. Serves 4. This recipe was from an advertisement in a magazine. Can be made gluten/ dairy free as required

Top Review by RonaNZ
I was expecting a four star meal but this was definitely a five star! I did, however, make a mistake and added the juice from a whole lemon but the lemon flavour was what made it. I also cut up the parsley with the bread when I made the breadcrumbs. This is what happens when you read a recipe and then walk away from your computer! I also discovered that I didn't have ramekins (on holiday at the moment) so I made one big pie although I think it would be lovely served in individual dishes.
1 1⁄2 cups breadcrumbs or 1 1⁄2 cups gluten-free breadcrumbs

1

tablespoon olive oil

1

carrot, chopped

1

celery, thinly sliced

3

spring onions, thinly sliced
1⁄4 cup plain flour or 1⁄4 cup gluten-free flour, blend

500

g boned firm white fish fillets, cut into 2 cm cubes

1

tablespoon lemon juice

2

tablespoons chopped parsley
Preheat oven to 180°C.
Divide crumbs in half.
Melt butter and pour over 1/2 of the bread crumbs.
Add the olive oil to a frypan and cook carrot and celery until softened- about 3-4 minutes.
Add the onion and cook for another minute.
Sprinkle in the flour and stir to form a paste.
Remove the frypan from the heat and slowly stir in the milk. Return to heat and bring to the boil, stirring until smooth.
Stir in fish, lemon rind and juice. Remove from heat.
Spoon mixture into 4 1/4 cup (310ml) heatproof dishes and sprinkle over the crumbs/butter mixture.
Bake for 25 minutes or until topping is golden.
Serve warm, sprinkled with parsley.