gailanng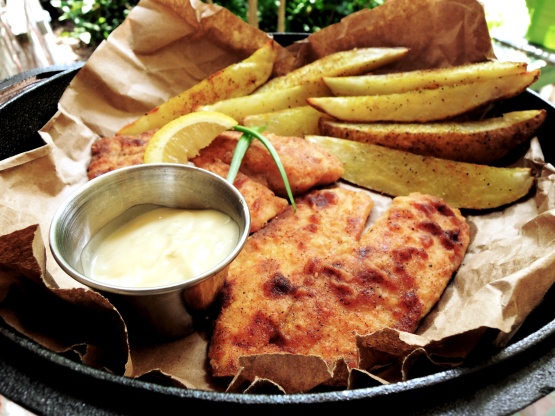 It does not get much more British than Fish & Chips - this recipe is a lightened up version but still packs all the flavour

I had some problems with the fish that were my own fault so I will leave off stars this time. Chips: These were definitely a change of pace, If I make again I will sprinkle just enough...it was a little too much for me. Hubby isn't too keen on East Indian flavors so I don't forsee making them again. I do like those flavors though so maybe on a "girls night" I can try it again. Fish: The flavors were yummy!! Unfortunately, I was lazy and didn't completely defrost the halibut. When I tried to fry it, a bunch of liquid cooked out and the breading stuck to the pan. I even tried moving it to another pan but still had problems with sticking. Hubby and I agreed that we liked the flavors so we will probably try again. I may even try baking instead of frying.
Preheat oven to 450°F.
Peel potatoes; prick in several places. Microwave on high for 4 minutes or until tender-firm. Let cool for 5 minutes. Cut lengthwise into wedges.
In large bowl mix half of the oil, cumin, salt and pepper, the full amount of the turmeric and garlic. Toss potato wedges in the mix.
Arrange on greased rimmed baking sheet. Bake until crispy and golden brown, turning potatoes once or twice, for about 20 minutes.
Meanwhile, in shallow dish, whisk together flour, paprika and remaining cumin, salt and pepper.
Press fish into flour mixture, turning to coat; shake off excess.
In large skillet, heat remaining oil over medium-high heat; fry fish in batches, turning once and adding more oil if necessary, until golden and fish flakes easily when tested, about 7 minutes.
Add spinach if you wish; cover and steam until wilted, about 2 minutes. Serve with lemon wedges to squeeze over top.