Frcloud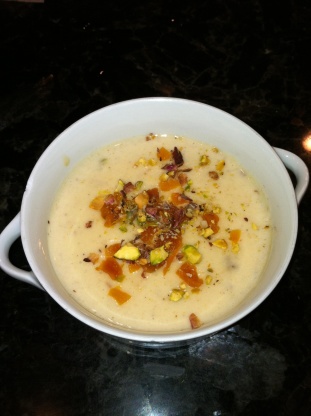 This was in response to a recipe request.

I loved this! It's much like an Indian rice pudding, except without the individual grains of rice and with extra goodies added. I didn't have any rice flour, so I just ground some uncooked rice in my coffee grinder...it worked fine. Next time I'm going to make this with orange flower water in place of the rose water, just for some variation. Thanks for sharing!
Put the fresh milk into a heavy-based saucepan over a medium heat.
Mix the ground rice and ground almonds together and sprinkle evenly over the milk.
Bring the milk to the boil, stirring frequently.
Add the evaporated milk and sugar, stir and cook over a low heat for 6-8 minutes.
Remove from the heat and allow the mixture to cool-stirring occasionally to prevent a skin forming on top.
Stir in the rosewater and the ground cardamon.
Reserve a few almonds, pistachios, and apricots for garnish, and stir the remaining ones into the pudding.
Transfer the firni into a serving dish and top with the reserved fruit and nuts.
Serve hot or cold.