twissis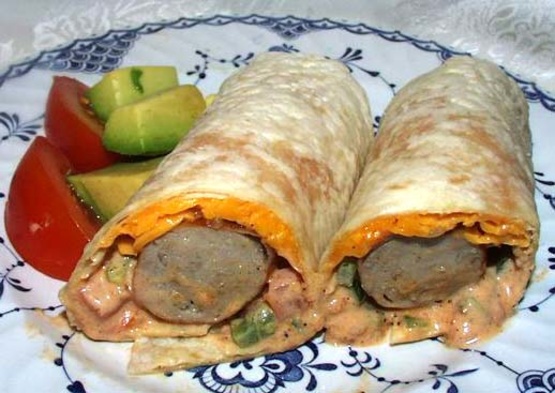 I was at the johnsonville.com site ck'ing something else when I found this tempting recipe. Their only comment was "Some nachos on the side & you've got a fiesta!" All of a sudden a picture came to mind of a patio party w/pitchers of margaritas & a big bowl of guacamole plus trays of nachos & these burritos w/sopapillas & honey for dessert. When a recipe can have that effect on a well-adjusted & well-fed "mature" woman, then it deserves to be shared! *Enjoy*

Yummy!! We eat Brats all of the time and cant seem to get enough of them, just needed something different besides the typical green peppers and onions or on a hot dog bun with condiments etc, etc, etc. Dang this was good!! Cooked about half a vidalia onion and 1 small can green chiles in butter with a pinch of kosher. Mixed lots of sour cream with about 1tsp dried cilantro, dashes upon dashes of salsa chiopotle sauce, 1 slicing tomato, half bunch green onions, and cracked black pepper. Used grilled stadium brats :) rolled in the tortilla with medium cheddar cheese!! soo good!! Both of our first bites were everything BUT the meat cause it slid back in the tortilla.... and those first bites were still good without meat for two carnivores like us! and the rest of it was packed with flavor!! Thanks twissis!!!
Mix 1st 9 ingredients & set aside.
Prepare bratwurst per pkg directions & set aside, but keep warm.
Heat flour tortillas, immediately sprinkle 1 oz of shredded cheese down the center of ea tortilla & top ea tortilla w/a warm brat.
Generously spoon the sauce/veggie mixture down ea side of the brat & roll tortilla to enclose the contents.
To Serve: If using 10-12 inch tortillas, you will likely have enough tortilla to fold over 1 or both ends & eat by hand. If using 8 in tortillas, just roll it up, plan to use a knife & fork & serve w/any remaining sauce. When you taste the sauce, you will want more of it anyway!
NOTE: Time does not include time to prepare bratwurst links per pkg directions. Time did include 15 min for veggie prep & 15 min for assembly.