Rita1652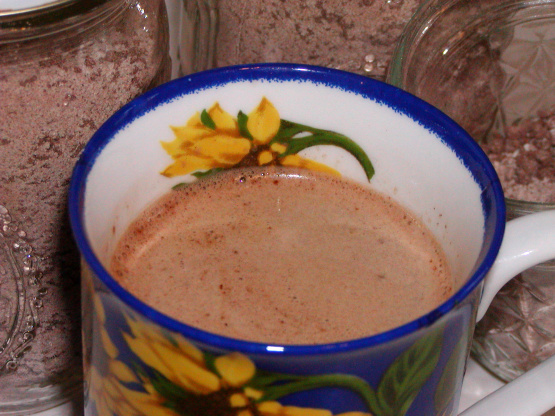 I found this recipe in our local electric co-op magazine. I love to keep mixes like this fixed up so that there is always something for making those hot drinks on the spur of the moment. Besides, guest will think you are great when you serve them this. And if you are watching your caffine, it is just as good with decafinated coffee.

Top Review by KelBel
This was very good. Easy to make and a great alternative to plain coffee or cocoa. Also cheaper than the international foods coffees. You can change it up by adding different spices or flavored coffee creamer like vanilla or hazelnut. I used 1 tsp pumpkin pie spice instead of 1/2 tsp of cinnamon and nutmeg.
Mix all ingredients until well blended.
Store in air tight container.
For each individual cup use 2 tablespoons mix to 1 cup boiling water.
For a pretty presentation, top with fresh whipped cream.
If making this for a large crowd, this whole recipe will make a full 30 cup coffeemaker of holiday coffee that adults and kids alike will enjoy!