Redsie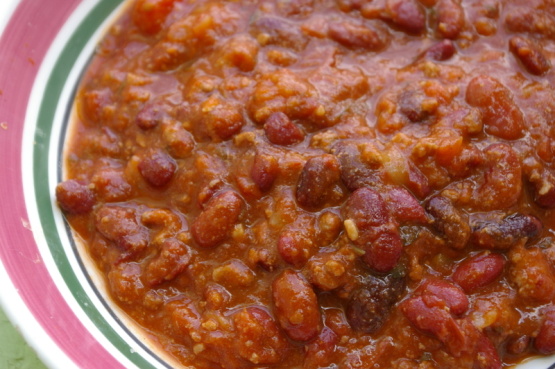 This is an excellent chili recipe. My husband is a chili lover and requests this about once a week in the Winter. It's a little on the hot/spicy side but you can adjust the amount of seasonings if you want it milder. I like to serve this with cornbread muffins and/or crackers. (Estimated prep time. Although it calls for cooking the chili 2 hours you can cook it on low for several hours).
This is a great recipe. It was extremely easy to make. Both of my picky eaters ate it. My husband liked it so much he told me that I need to use this recipe from now on when making chili.
Heat oil in a large pot. Brown together ground beef, onion and garlic; drain well.
Add all the spices along with the Ro-tel tomatoes, tomato sauce, kidney beans and tomato juice. Mix well and bring to a boil.
Simmer 1/2 hour uncovered and 1-1/2 hours covered. (If too thick you can add additional tomato juice or water).