Here's a recipe for spicing up shrimp. Prep time includes the minimum marinating time. These can be served hot or chilled and used as an appetizer.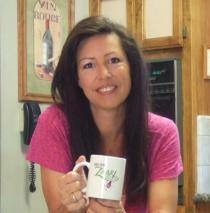 This is an excellent way to prepare shrimp. I made it accordingly and garnished with sliced avocado, cilantro springs and cherry tomato halves. Lovely dish. Nice and Spicy, I also left the seeds in 1 jalapeno ;) cuz I like it HOT! Thanks for posting this recipe... It's a *keeper* ~V
Place the ingredients for the mash in a food processor or blender and blend until a smooth paste forms (probably about 1 minute).
Place in a covered dish with the shrimp and marinate at least 1 hour, preferably overnight.
Heat the tablespoon of olive oil and saute the shrimp until pink.
Use the lemon juice to deglaze the pan, and season the shrimp with salt as needed.
If desired, you can garnish with thinly sliced avocado, sprigs of cilantro, or cherry tomatoes.