Bergy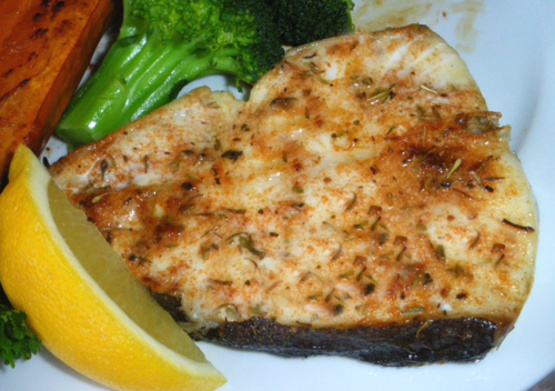 Seafood done right can be a little slice of heaven. This particular dish is one of my personal favorites. Good as a main dish and also good over salad of your choice.

This was very good. I used frozen halibut (thawed) and followed the recipe as written. Since I was only cooking 2 fish filets, I also used the spice mix on some cleaned jumbo shrimp. Very tasty.
Preheat broiler/oven or grill to medium-high heat.
Mix together all dry seasoning ingredients until well combined.
Rinse any ice glaze from frozen Alaska Halibut under cold water, pat dry with paper towel. Place halibut on a spray-coated or foil-lined baking sheet. Brush butter onto top surfaces of halibut and sprinkle with 1/2 teaspoon seasoning mixture (note: for best results with frozen fish, cook halibut 4 minutes before adding butter and spices.).
Grill or broil halibut 5-7 inches from heat for 13 minutes for frozen halibut OR 8 minutes for fresh/thawed fish . Cook just until fish is opaque throughout.
Store remaining seasoning mixture in an airtight container for future use.