JustJanS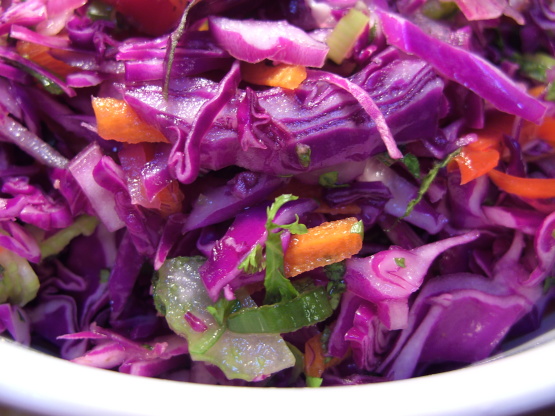 This is a great tasting and great looking slaw, which is a modification of a good but ordinary red slaw recipe. I decided to make it as bright and flashy as the multicolor impatiens in my garden, so I chose ingredients that have flashy colors.

We bought a whole lot of veg at farm gates the other day, so i went searching for a recipe to using them and also fitted in with our new low fat eating. This was perfect on both counts and a bonus that it tastes so very good too. We made a half recipe but used all the parsley and subbed a tablepoon of mint for the thyme. I couldn't imagine eating one inch chunks of green onion, in a coleslaw so we sliced ours thinly and as we have celery we need to use added in a stick of that. The dressing is really quick to put together with things I always have on hand and I added half a teaspoon each of salt and pepper to it. Thanks for a healthy, yummy recipe I definately be making agian.
Mix all of the slaw ingredients together in a large salad bowl.
Mix the dressing ingredients together.
Pour the dressing over the slaw and toss.
Refrigerate slaw for two hours to allow the flavors to blend.