Firecracker Burgers With Cooling Lime Sauce
Linajjac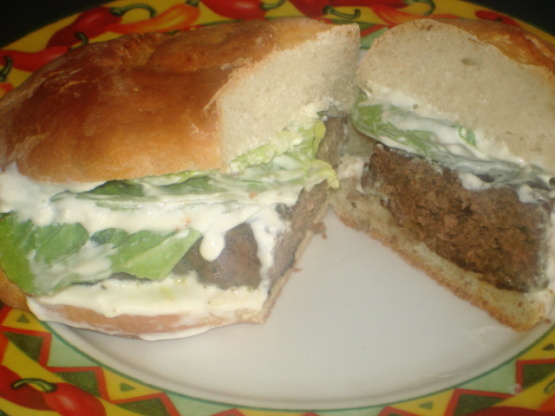 This recipe was a finalist in the "Grilled Beef" category of the 2003 National Beef Cook-Off. Found it on the Texas beef website.
Combine the ground beef, curry powder, jerk seasoning, and 1 tsp salt in a large bowl. Mix lightly but thoroughly.
Shape into 4 (3/4-inch) thick patties.
Heat grill to medium.
Place patties on the grill and grill 13-15 min, uncovered for medium doneness. Turning two to three times.
Meanwhile, combine the mayonnaise, yogurt, lime juice, lime zest, and 1/4 tsp salt in a small bowl.
Spread sauce on cut sides of rolls.
Place a burger on bottom half of each roll; top evenly with the mixed greens.
Top with the other half of the rolls and serve.