Finnish Summer Vegetable Soup (Kesäkeitto)
Prep 15 mins
Cook 15 mins
"Soup is good food" I found this for the World Tour. Serve this with freshly-baked Finnish Rye Bread and some cheese for a nice lunch.
Directions
Heat water, carrots, potato, peas, beans and cauliflower to boiling in 3-quart saucepan; reduce heat. Cover and simmer until vegetables are almost tender, 10 to 15 minutes.
Add spinach; cook uncovered about 1 minute. Mix 1/4 cup of the milk and the flour; stir gradually into vegetable mixture. Boil and stir 1 minute.
Stir in remaining milk, the whipping cream, salt and pepper. Heat just until hot. Garnish each serving with dill weed.
Reviews
Most Helpful
This worked well both for my BF and me. Fresh dill put it over the top. We used low-fat milk and light cream. Instead of 1 cup milk we subbed 1 cup broth. BF ate some leftovers, a sure sign of a great recipe!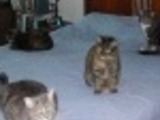 I just made this. It's great! I am not a soup person, normall, but I do love anything creamy ;-) I actually thought the soup might be boring and bland. I'm glad I was wrong! I followed the recipe exactly, with the exception of the cauliflower. I left that out. I'm eating it with ciabata dinner rolls.
What a fantastic recipe! I believe this is my new favorite comfort food. It's simple, uses lots of fresh veggies, is hearty and oh so flavorful. In my climate, this would be more of a fall vegetable soup, and I look forward to making it then with the veggies from my garden. Made for Mike and the Appliance Killers ZWT9.