Brenda.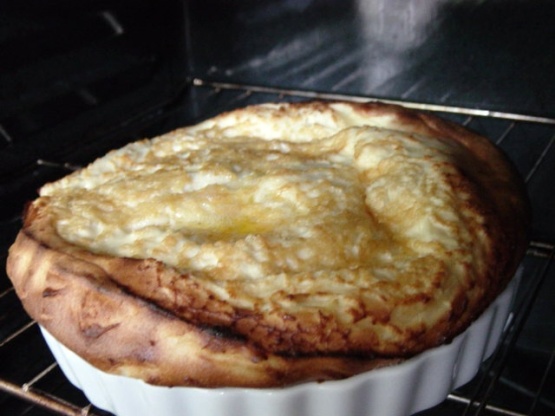 From a long-time friend's cookbook compilation.

Both my wife and I have had Finnish pancake recipes almost exactly like this handed down to us by our families, and we both love this! Her family called it "Panu paku" (apparently a mispronunciation of pannukakku), and my family called it "Big Dutch Babies." Interestingly, we were both introduced to this with canned peaches in heavy syrup as the topping. Peaches make it great! Maïté is correct that this would be very bland by itself (just like crepes would be), but it's not intended to be eaten plain!
Place a 10 1/2" oven proof frying pan with at least 3" sides in a 450F oven for 10 minutes.
While the pan is heating, beat together the first 4 ingredients.
Add flour and beat until smooth.
Melt butter in heated pan and swirl the butter up the sides to coat the pan.
Pour in the batter and bake for 25 minutes or until set. The mixture will puff while cooking and fall when removed from the oven forming a dish.
This can be served plain or with a heated fruit topping and whipped cream.