Finnish - Layered Midsummer Herring
twissis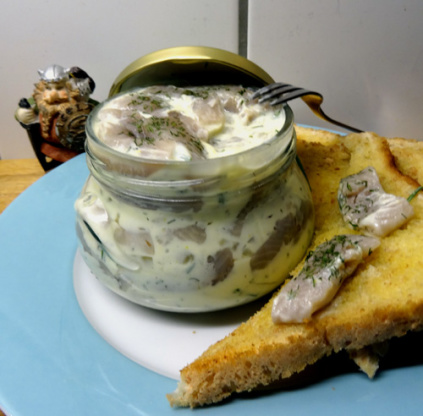 This recipe is posted here for play in ZWT9 - Scandinavia. This recipe is from website: freshfromfinland.com This delicious herring recipe is simple to make, and works especially well when served with a side of new crop potatoes. Please note: Chill time is noted in cook time.

Made for the FYC Tag Game - I made this as written except that I did not serve it w/potatoes as suggested. I served it the way we eat it here .. atop buttered toast. It was so good that I was actually purring as I ate my brunch today. I did have a moment of confusion about the mustard ingredient. I couldn't tell if you wanted a table mustard, sweet mustard, Dijon mustard or other grainy brown mustard, etc. I finally opted to use 1/2 T sweet mustard & 1/2 T Dijon mustard. Loved this BK. Thx for sharing it w/us.
Pat the herring fillets dry with paper towels and cut lengthwise into ½-inch slices.
Chop dill and chives and set aside.
In a mixing bowl, combine the sour cream, lemon juice, sugar, mustard, and mix well.
Season to taste with salt and pepper.
In the pickling jar, layer the herring fillets, sour cream mixture and the chopped chives and dill, starting and ending with a layer of dill and chives.
Refrigerate for 1-2 hours and serve with new potatoes.